Are you looking to renovate your kitchen?  Kitchen cabinet flatpacks are a great solution for getting the job done.
Using a flat pack is a very efficient and cost-effective way to renovate your kitchen. These kitchen cabinet flatpacks are typically supplied in a box and come ready for either yourself or a tradesperson to put together. The cabinets have a very versatile and modern style that make it very simple to select complementary components.
To create your ideal flatpack kitchen, you'll start by choosing these cabinets, before moving on to accessories, doors, panels, and benchtops. This article will explain the complete process of how you can renovate your kitchen using kitchen cabinet flatpacks.
Start with Your Cabinet Sizes
When commencing the flat pack process, you want to consider standard sized cabinets.  We recommend making sure your kitchen is measured perfectly so that your chosen draftsperson, or your kitchen supplier, can create the ideal kitchen for you without any issues.
Fortunately, it isn't a major problem if your area isn't standard. These cabinets can be customised to fit neatly according to your specific needs.
Customise Kickboards
A key component of any kitchen is the kickboards. As part of your flat pack kitchen, these will typically come in the same colour as your doors.
That said, customising these kickboards is also one of the best ways to give your kitchen a new and modern look. You can opt to change the colour, install metallic kickboards or match them with the same material as your benchtop.
Install Your Benchtop
No kitchen renovation is complete without a benchtop. As most benchtops won't be perfectly square, it's advised that you hire a professional to install this for you.
A quality benchtop also represents an excellent way to give your kitchen a customised and unique aesthetic. You can really be creative here and design something that will be a talking point amongst your guests. If you want to allow for seating, remember to make the benchtop 300mm wider than the install posts for extra support.
Don't Compromise on Hardware
It's no secret that kitchen cabinet flat packs can vary in their quality. If you're purchasing one of the lower end ones on the market, you simply can't expect top quality performance.
One area where you shouldn't compromise is the quality of the hardware that you choose. This is especially true for hinges and drawer runners, which can last for a long time with the appropriate quality. Over the long run, this will result in cost savings as you don't need to replace them nearly as often.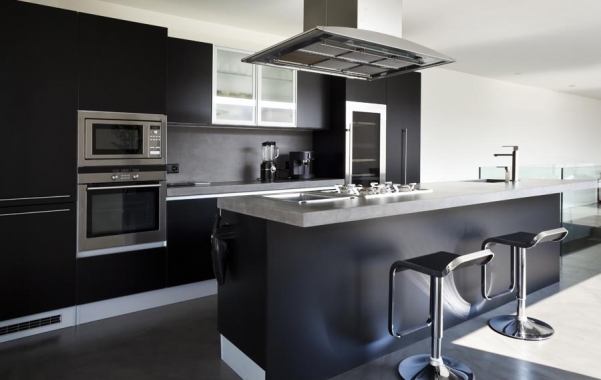 Install Lighting
The right lighting can add a significant amount to the look and feel of your kitchen. Given the importance of this step, we strongly recommend hiring a qualified electrician to install your lighting.
It's important to think outside the box with this step, as alternative lighting solutions can often beat the typical single overhead. This can help set your kitchen apart from the rest and make your flat pack kitchen look like it was built by the best.
The kitchen really is the heart of the home – so make it stand out with one of Online Flatpack's customised kitchen cabinet flat packs.  Contact us to find out more.