The greatest bathroom trends of 2020!
Are you doing a bathroom reno? Or just want to freshen up the look? Online Flatpacks takes a look at the Bathroom trends 2020 –  and there are so many things you can do!
From shower heads to tiles, lighting to décor, bathroom trends 2020 has it all. There are so many exciting changes you can make to your current bathroom, it'll be a challenge deciding what not to do.
Bathroom trends 2020
You've seen all the home renovation shows and read all the magazines. Now it's time to get started. Here are some of the best upcoming bathroom trends.
Unfinished wood
That rustic look can be so appealing. If you'd like to create a warmer, more organic feel to what would be a cold tiled space, opt for natural materials. Natural looking cupboards and other storage devices can be installed yourself if you use flatpacks. As thousands of savvy home reno experts have done, you can save a fair chunk of cash if you take advantage of flatpack cabinetry.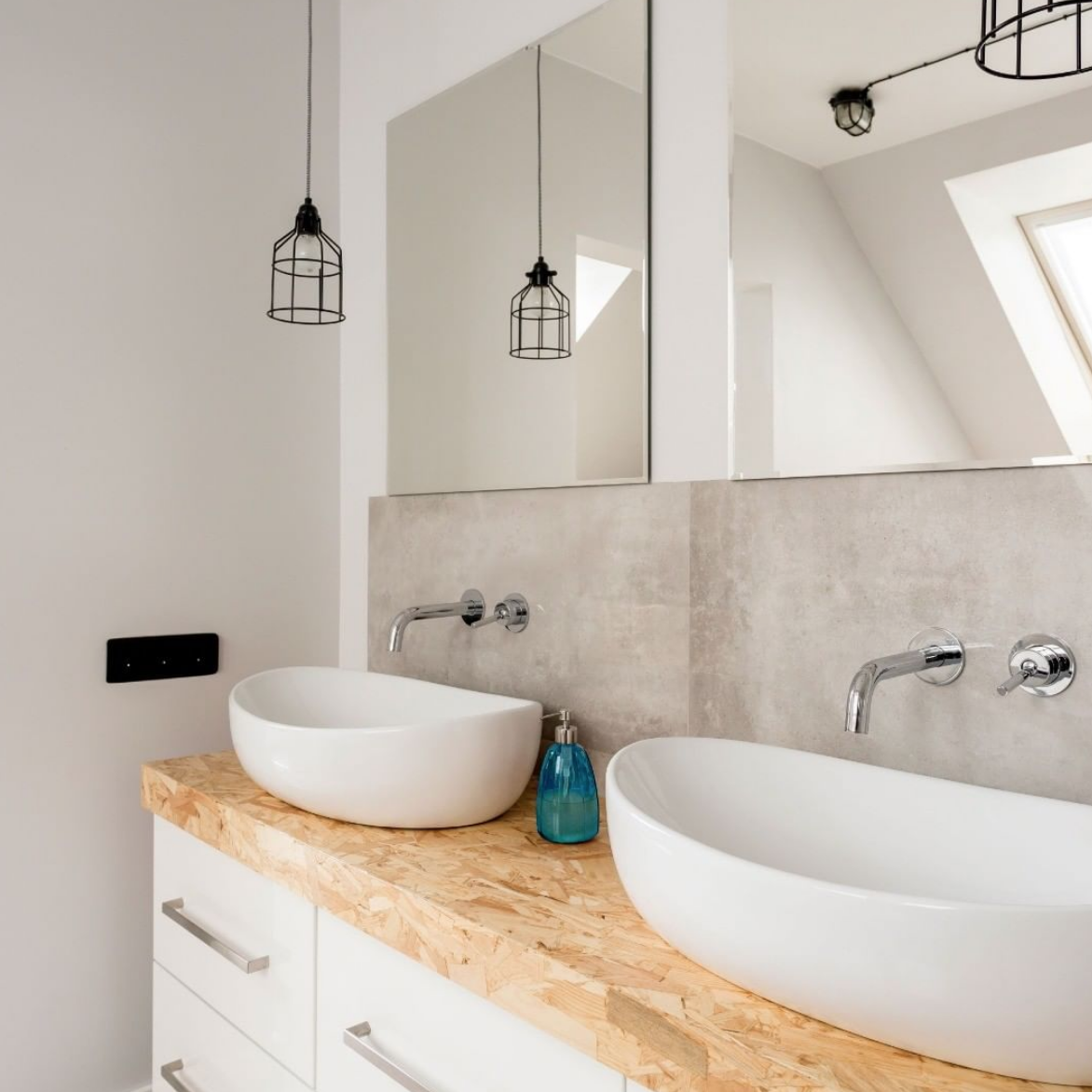 Rain showers
Chances are, you've already stayed at a hotel that has a rain shower. They've been all the rage for a few years now, and are more popular than ever. A wide-headed rain shower covers you quickly and gives you a better clean, while being therapeutic. If you really want to splurge, check out fixtures with dual attachments so you can have a wider overhead rain or a more directional spray via a secondary nozzle.
Dark statement walls
To break up the monotony of a bathroom and provide a focal point, try black or very dark blue on one wall. Be it paint or coloured tiles, place them behind your mirror and vanity for the most eye-catching results.
Coloured tapware
We spend a lot of time in our bathrooms, so why not make them more interesting by inserting some colour through coloured tapware. Matte black is a serious trend, but venture out of the norm with gunmetal grey, brass or powder-coated white.
Backlit mirrors
This trend is back in fashion. Circle or oval shaped mirrors look stunning when lit from the back. Frankly squares and rectangles do too. Backlit mirrors are even more eye-catching when mounted on dark statement walls.
We spend a lot of the time in our bathrooms. All the more reason to make it look appealing and interesting. Hey, maybe even a little sophistication and fun. Be sure to check out our Inspiration pages today for some great ideas for your new bathroom!